Part One – New Moon Planting
Welcome to The Astrology Show for April 2020. In Part One, we'll look at planting on the New Moon in Taurus on 23rd April.
Taurus rules food, and also money. That's why this edition of the show comes in two parts.
And, of course, the New Moon is new beginnings.
Join us for Part Two with Kate Silas, whose experience on Wall Street and with her business, Profit With the Planets, brings something unique to the show. Olga Morales, who needs no introduction as one of the world's leading experts on W.D. Gann and his mysterious techniques – is also in Part Two.
For now, though, let's look at the New Moon (which is always a new beginning) and why this one, in the sign of Taurus – so practical, down-to-earth, grounded and productive – is useful.
About New Moons
Depending on your time zone – and we have listeners from Auckland to Los Angeles – you will either catch the New Moon timing actually on 23rd April, or a little later. Nobody expects you to jump out of bed at the early hours of the morning.
In fact there are some rules about New Moon timing in general, which we'll look at in a moment. Stephanie Johnson can explain the gardening/planting lore around such times, in a moment.
She has supplied you with a free PDF download of April's moon cycles, which is great if you are moon watching. Based in Australia, Stephanie's timing will need adjusting for your time zone.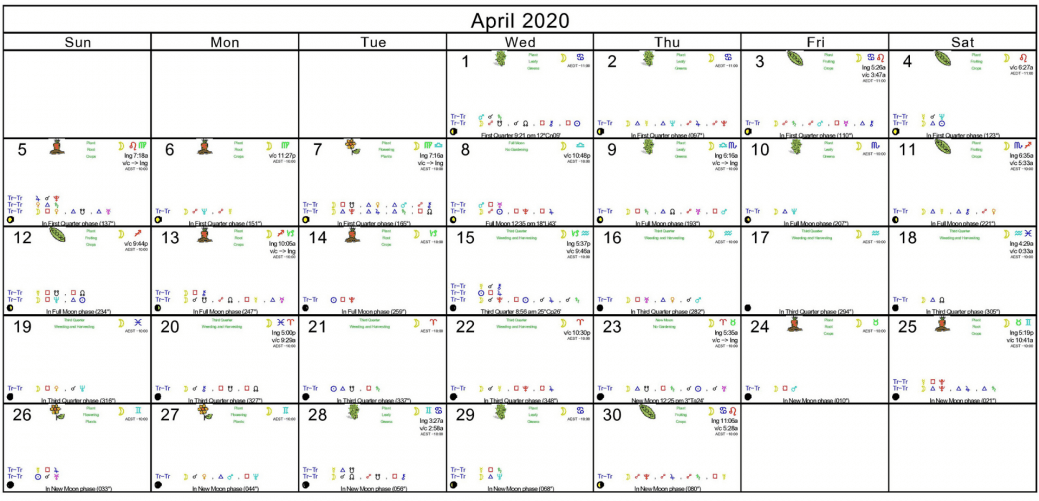 For example, the Third Quarter Moon on the 22nd of April for Weeding and Harvesting, the 23rd itself (the New Moon – no gardening) but the 24th (with the Moon completely in Taurus, ideal for planting) may come in differently, where you live.
I'll repeat this link a few times for you as it's so useful. Always use www.timeanddate.com to calculate the exact New Moon for you.
Astrological Wisdom – New Moons in Focus
Louis MacNeice (Astrology, Bloomsbury Books, London 1989) educated a whole generation of professional astrologers with his work. "In the Renaissance it was thought that dreams come true when the Moon is in any of the four "fixed" signs – Taurus, Leo, Aquarius and Scorpio" he notes.
Our Taurus New Moon on April 23rd is certainly a dream-come-true Moon, then.
But there's something else. Uranus, the planet of radical change, freedom, independence, breaking free – being liberated – and also liberating others – is in Taurus too.
That's big. It's like hearing one very new piece of music, laid over the top of another one.
Amy Herring on the Moon
Essential Astrology by Amy Herring (Llewellyn Publications, Woodbury, Minnesota 2017) is an excellent guide to your horoscope. She writes "The Moon reveals the ways that we want to care for others and be cared for ourselves."
Caring has long been a key word for the Moon. The long link between the Moon and pregnant women, menstruating women and breastfeeding mothers goes across many cultures and points in history.
The New Moon in Taurus on April 23rd and You
As Taurus rules business, and the Moon is 'taking care' this is a Taking Care of Business moon. A new start, as a New Moon always is. Yet, with Uranus also in Taurus, this is not business as usual. It is business as 'unusual' if you like.
Photo by Blake Wheeler
The Natural House System
If you use the Natural House System (as a Premium Member your personal birth chart automatically uses it) then this New Moon in Taurus will be in your Second House.
Robert Hand, writing in Planets in Transit (Whitford Press, 2001, PA) suggests "This is a time when you emotionally identify with your possessions or whatever you value."
Key words for Taurus, apart from bullion and bull markets, include – business, finance, houses, apartments, eBay, exchange, barter, donation, hoarding, donation, charity, philanthropy, share markets, ownership, insurance, legacies, wills, shopping, sales, debt, credit – you get the picture.
I wrote 2020 Vision (Penguin Viking, Australia, 2008) before my next book, 2020 Astrology: Your Five Year Horoscope Guide. Both times I was fixated on this year because, in common with so many astrologers, I could see it was Year Zero of the greatest transformation of the decade.
It's hard to find now, but here is an edited extract, about the kind of New Moon we're seeing on April 23rd.
THE CYCLES OF THE MOON
The Moon, by itself (neither eclipsed, nor full, nor new) always delivers someone, or something, to nurse. It describes the need to protect and nurture people, animals, projects, plans – or yourself. If you feel like being 'babied' now, it will be in connection with the life areas being triggered by the Moon. As the Moon passes through your Second House, for example, you may need to give yourself extra T.L.C (or ask other people for it) because your financial situation is making you feel vulnerable.
As the Moon passes through your Tenth House, you may find yourself tending to the boss – or taking the afternoon off, so that you can 'nanny' yourself and your current career issues! In all Moon cycles, you can learn some incredibly important lessons from your inner child, but also from the people around you who require your care and protection. As you might expect, the Moon passing through a particular sign and house can bring babyish, childish behaviour – but also trigger strong maternal instincts. It's about neediness, but also the need we all have to feel needed!
The Moon automatically sets up situations where someone gives, and someone (or something) else takes. It can be a tender, emotional and instructive time if everyone gets it right, but if the demands are too much, or the 'giver' is going overboard, the Moon's emotional pull may need to be monitored and managed. Nevertheless, if all concerned get it right, the childlike, innocent, vulnerable feelings feelings which emerge now will educate you and open your eyes.
THE CYCLES OF THE NEW MOON
At this time, the Sun and Moon come together and operate as a team. This is an extremely good time to begin new plans, because what you organise now will faithfully meet the needs of your left brain and right brain, at the same time! The mind, body and spirit will be working together in the most amazing way, over the two days that the New Moon is operating.
Consequently, you can charge ahead without any of the mixed feelings, contradictions or inner conflicts that can get in the way of progress at other times. If you are one of those people who tend to live in their heads, the New Moon will ground you, and put you back in touch with your body. Equally, if you often ignore your brain, in favour of your body, you'll now become aware that both sides of you are finally working together. When the New Moon is in your Sixth House, you will have a unique opportunity to find a workable lifestyle choice, medical option, eating plan, or alternative health practise.
You'll understand the principles of holistic medicine more fully, when the New Moon is in your Sixth, and be able to launch a new way to work and live, that accommodates all of you. When the New Moon is in your Seventh House, you'll often be facing a different phase in your marriage or relationship, or dating someone new. It's a good time to make relationship choices, because your need for sex, and comfort, and physical closeness will dovetail with your ego, your spirit, your essence and your soul. You'll feel 'together' in a way that's quite unusual, when a New Moon arrives – total focus and certainty is now easy to achieve.
New Moons are Emotional – Shirley Soffer
The Astrology Sourcebook by Shirley Soffer (Lowell House, Los Angeles, 1998) is a great resource no matter if you are an experienced or beginner astrologer.
"We are all familiar with the Moon's tug on the sea, which causes the tides to change. But the Moon also tugs on the waters of our physical body," she writes, "causing our emotions to change. When we are emotional we cry, secrete, perspire and salivate; our blood itself is stirred."
So, if you're feeling unusual on this New Moon – not your normal self – there may be an astrological explanation for that.

Photo by Christian Joudrey
Planting, Growing, Developing on the April 23rd New Moon
Serious gardeners will pay attention to Stephanie Johnson's rules – and you should also time your nearest city at www.timeanddate.com as the lunar cycle peaks and rises at various times all over the planet.
The Dictionary of Symbols, from Penguin (my publisher) was written by two Frenchmen, Jean Chevalier and Alain Gheerbrant.
It has been with us since 1969 and is a great resource. They write that "The Moon is a symbol of life-rhythms: a body which waxes, wanes and disappears…The Moon also symbolises passing time, living time, which it measures by its successive and regular phases."
Hair-Cutting and Gardening
Hair-cutting, gardening, losing weight and putting it on – all have been tried, tested and trusted using lunar cycles. For the best results, personalise these to suit yourself.
Perhaps it's time to start meditating. On a New Moon the Sun and Moon are in the same zodiac sign at the same degree. The Moon rules mothers and the Sun rules fathers. They are in union. A birth, conception or new beginning is the result, according to astrology.
A meditation program begun now may not be strictly Taurean (a sign connected with money and vegetables/fruit) but it's worth a try. What begins on a New Moon – especially one like this, with Uranus in the same sign, the planet of radical change – can reshape your life.
Buddhists believe that the Buddha meditated for a lunar cycle, around 28 days. I am sure you can see the moon key word hidden in monthly. We talk about monthly periods. The Moon and women's menstrual cycle correlates.
The Buddha meditated under a fig tree for a complete cycle of the Moon before he attained Nirvana and acquired perfect knowledge.
Actually – there is a Taurus connection right there. A fig tree. Delicious and expensive figs, that staple of restaurants, are certainly ruled by Taurus. If you are lucky enough to find your own tree, it may be time to begin sitting underneath it.
Exact New Moon in Taurus Timing
What you're looking for?
April 23rd, 2020 New Moon. Sun 3 Taurus conjunct Moon 3 Taurus 2.25.43 UT (Universal Time)
Just to repeat, for exact timing, use www.timeanddate.com for the arrival of the New Moon in your nearest city.
Over to You – We Want Your Feedback
Planting seeds, ideas, relationships, businesses, new homes, or the tops of onions? How about alfalfa sprouts or beetroot?
We'll be joined by astrologers and gardeners, as well as astrologer-gardeners for this show. We'd love to hear from you @theastrologyshow or @jessicacadams about your experiences.
This is long-term, too. We'll be watching your progress from New Moon in Taurus to Full Moon in Taurus, later this year, as the Sun goes through Scorpio from late October to late November.
Old Wisdom and New Technology
Stephanie Johnson brings her horoscope software experience with Solar Fire and Astrogold to your garden, or your kitchen sprouting. If you're not familiar with these programs, then take a look at estotech.com.au or follow Stephanie @seeingwithstars.
Astrology Show Listener of the Month
Reader Louisa Deasey, who is green-fingered, but also interested in the impact of astrological cycles on her life and times (and her garden) is our guest for this episode, too.
So what is it about the New Moon that makes the period around it, just ripe for planting? And why are people so drawn to using the planets and other horoscope factors to time their lives?
Reader Louisa Deasey on Astro-Gardening
As a child I spend time on the allotment with my grandad, popping peas, digging up potatoes or picking blackberries to take home to mum to make jam, wine or crumble. Gardening is inherent in me, as it is all of us.
I was very ill after the birth of my son, Luke… At that time gardening and especially planting seeds was important, to see them sprout and grow gave me hope that I had a future as I nearly did not make it twice.
Recovery was long and slow; I was not able to work as I had before due to fatigue. I could garden for an hour or so and have short walks with my camera.
I love and now appreciate even more the ability to be in nature and the importance of our gardens and green spaces for our wellbeing and the health of our planet.
I have followed astrology as far back as I can remember with Jonathan Cainer and Russell Grant.
For British Readers – The Taurus New Moon
Louisa Deasey: The new moon in the Earth sign of Taurus with the sun starting its journey in Taurus is zig-zagging with positive energy, asking us to start something new and practical: Mother nature needs our help.
We are locked in and shut down, the one thing we can do is spend time in our gardens and green spaces for exercise. We could now be sowing the seeds for fruition at the farmers markets by the full moon in Taurus at the end of October.
A nice one to start with is beetroot as they grow as well in pots on a balcony as they do in the garden. Sow some seeds in compost in an old plastic or tin food tray, if you have no flowerpots. Put them on top of a warm radiator near a sunny window and they will soon sprout. Giving you time to find a pot or a place in your garden. They will need potting on and hardening off before they are planted out.
Your monthly challenge? How about a bee watch the next time you are out walking. Herts wildlife trust have a great website full of things to do in isolation. Here is the link to a bee chart you can download and print, to see how many bees you can identify.
Every month on The Astrology Show we plant ideas, visions, plants and much more, on the New Moon. If you would like to be featured in our May 2020 show, please follow @theastrologyshow and send Alicia a Direct Message for details. No matter where in the world you are, if you are a gardener who likes astrology, we'd like to hear from you.

Photo by Nick Collins
For Australian Readers – Jennifer Matthews on Beetroot
Jennifer is a widely experienced gardener whose interest in complementary therapies and astrology goes back many years. In fact, she runs a local group in Coffs Harbour, New South Wales, Australia.
These are her words of wisdom on those of you who are planting beetroot on the New Moon. Send us your photographs @theastrologyshow, by the way. We'd love to see them.
Podcast: Growing Beetroot
https://www.jessicaadams.com/wp-content/uploads/2020/04/Jennifer-Matthews-Beetroot.mp3
Click player to listen to audio. Copyright Jennifer Matthews 2020
Stephanie Johnson on Astrological Gardening
Planting by the lunar cycle becomes easier once you use state-of-the-art software programs, tailored to suit you. Stephanie Johnson, one of our brilliant tutors at The Sun Sign School www.sunsignschool.com has created a podcast about using the Moon – and particularly the Moon cycle of April 2020.
Podcast: Taurus New Moon With Stephanie Johnson
https://www.jessicaadams.com/wp-content/uploads/2020/04/Stephanie-Johnson-Taurus-New-Moon-2020.mp3
Click player to listen to audio. Copyright Stephanie Johnson 2020
Want to know more about this highly unusual New Moon of April 23rd and its impact on money? Taurus rules what we sell at the market (the vegetables – even the sprout sandwiches) as well as what we buy, on the share markets. You'll find out more in Part Two here.
Featured Image By: Devi Puspita Amartha Yahya
Read more: jessicaadams.com